The featured country for "International Understanding" in the month of June, was the Republic of the Philippines. The kids watched a presentation by Francis Sensei introducing his home country which described the topics below.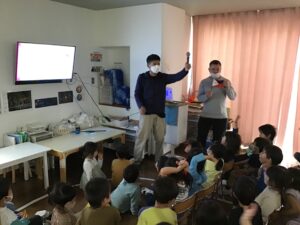 Flag
     The kids got to identify the colors (red, blue, white & yellow), shapes and symbols that includes three stars and a sun.
Geographical location
     The Philippines is an archipelago in Southeast Asia, situated in the western Pacific Ocean. It is 4 hours away by plane. The kids got to see in the slide that it is south of Japan.
Seasons
           The kids got to learn that it only has two seasons namely Wet & Dry season. Wet season meaning frequent rains and typhoons, while dry season is mainly associated with hot temperatures to bear.
Indigenous Animal
           The Tarsier is the world's smallest primate with only 3.5 – 6 inches in size. This nocturnal animal can be found in the province of Bohol which was also introduced in the presentation as one of the scenic spots featuring the Chocolate Hills.
           Some of the big kids in the Frontier class who are familiar with Star Wars noticed the Tarsier's resemblance to Baby Yoda of the Mandalorian series.


             Apart from the Power point slide presentation that the kids got to watch, they also had some simple activities, such as doing coloring sheets of the Philippine flag and the local public vehicle called the "Jeepney."
            Lastly, the highlight of the two-week long activity was tasting a local Filipino dessert known as "Taho." Thanks to Hotoda Sensei of the kitchen who helped cook & prepare some of the ingredients, the Frontier class kids and half of the teachers were able to taste and enjoy it. The ingredients of this sweet dessert are bean curd (tofu), tapioca and brown sugar syrup (kuromitsu). Some of the kids liked it very much, that the following week, some of them were still asking for it.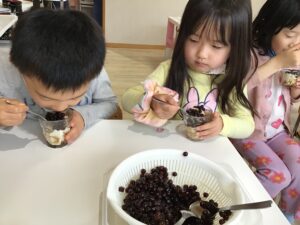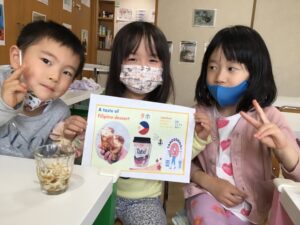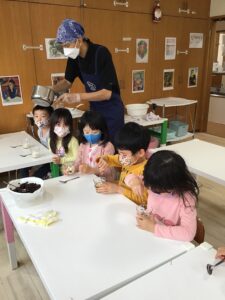 Brief History:                                                                                                           Spanish Occupation (1565 - 1898)
           It was under 333 years of Spanish colonial rule that brought about European influences in its culture, mainly religion. It's the only Christian nation in Asia, with more than 86% of its population are Roman Catholics.                                                                       American Occupation (48 years; 1898 – 1946)                                                                               It began with the cession of the Philippines to the U.S. by Spain in 1898 and lasted until the U.S. recognition of Philippine independence in 1946. Which greatly explains why English was infused in its society as the nation's second language where Mass Media (newspaper, television, radio) is not just in Filipino (Tagalog) but also in English.